Our Liverpool branch did an outstanding job recently in fitting the glazing at the new Aintree branch of Next Retail.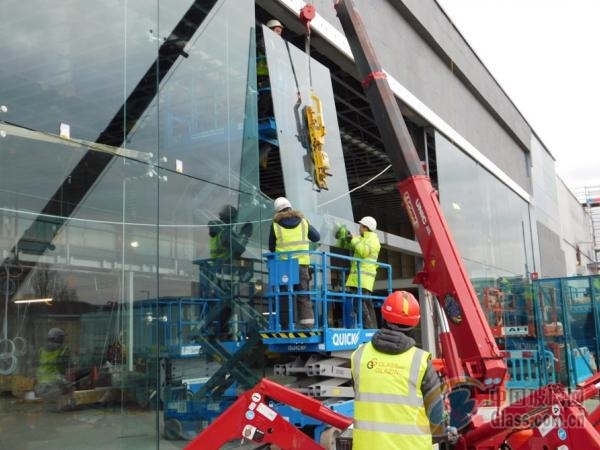 This fabulous new Next store replaces the original one on the site at the Aintree Retail Park, putting all Next departments under one roof. It includes dedicated furniture and kitchen shops, plus lingerie and clothing departments.
There are also Costa Coffee and Paperchase concessions. All together, the superstore takes up a massive 54,000 square feet.
Our brief was to supply and fit the internal and external glazing, creating a sleek, modern storefront that's both practical and attractive.
The External Facade
It took 600 square metres of SG41 toughened laminate glass on the external south facing elevation. This energy efficient glass will help reduce the u-values for the building.
Giving it excellent heat insulation, it creates a comfortable, healthy building for shoppers and staff. The healthy internal atmosphere will also help care for delicate fabrics.
The external appearance of the store is, of course, important. Not only for weather proofing but to showcase the window display areas that tempt shoppers inside.
We fitted three sets of bi-parting sliding doors to the entrances, as well as doing all glazing for the window beds.
Creating Magic with Mirrors and Glass
Coming in at 250 square metres, the amount of glass used inside was smaller than outside. But inside, the glass fittings create the modern surroundings today's consumers expect.
Our Liverpool team fitted all the internal mirrors in the changing rooms, plus spine wall glass in the children's, men's, and women's dressing rooms.
We fitted glazed mezzanine edge balustrades to the upper floors. These glass barriers are unobtrusive yet offer superb safety and visibility throughout. The effect is one of light and space in a modern, clean environment. Understairs glazing were the final additions to the store interior.
Job Completed on Schedule
Our Liverpool team completed the refit in just 10 weeks, bang on time for the Valentine's Day 2017 opening. Next celebrated with a special golden envelope giveaway, giving gift card prizes to the first 30 people in the queue.
We are extremely proud to have helped the Next superstore open its brand-new branch at the Aintree retail Park. All thanks to everyone from our Liverpool branch who worked on the project. You did a splendid job!